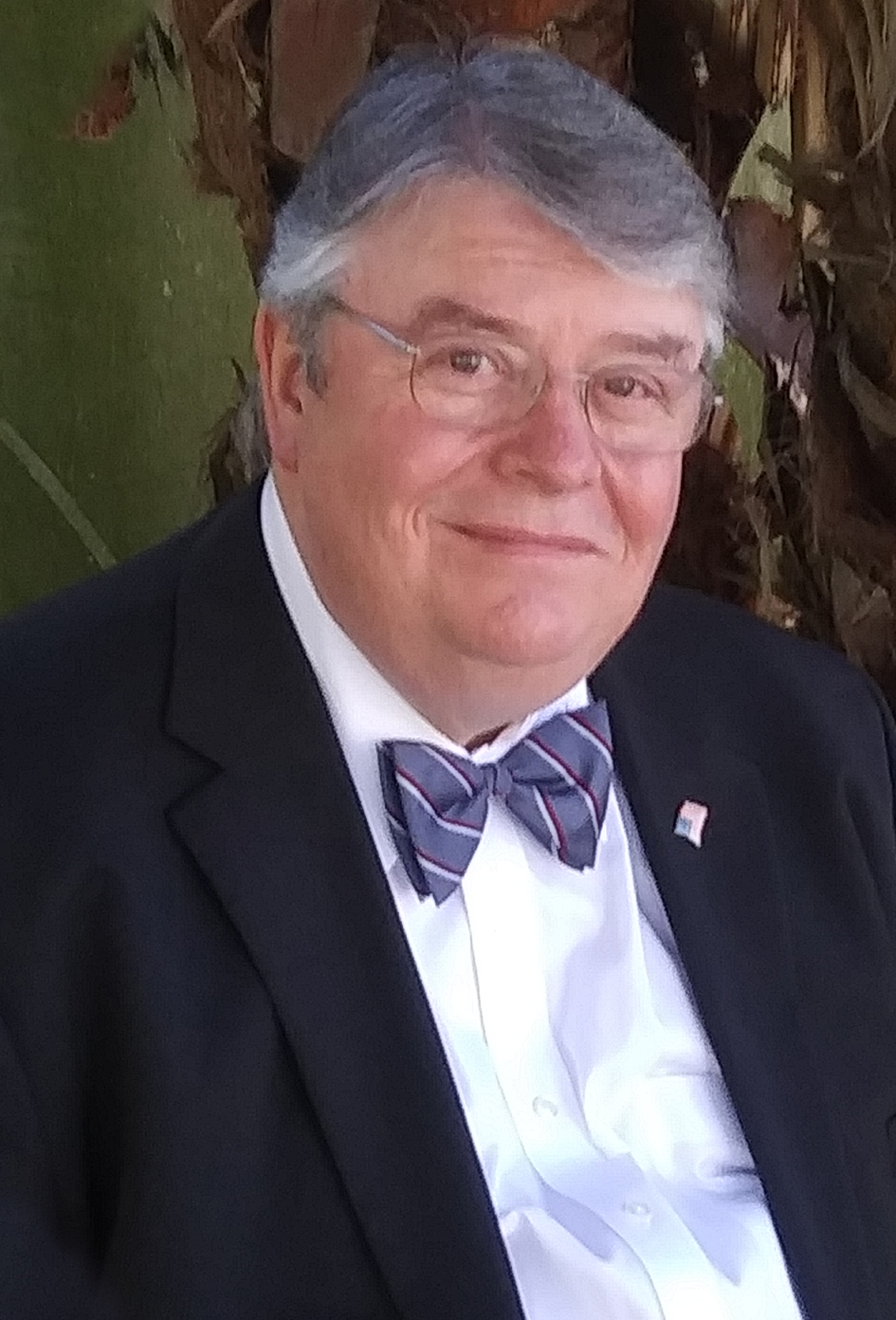 Richard Dwayne Hollis, a native of Charlotte, Dickson County, Tennessee, is the son of the late Ray J. Hollis and Martha Ann Wright. After graduating from Dickson County Senior High School in Dickson, Tennessee, he attended the University of Tennessee in Knoxville and graduated from Lipscomb University in Nashville, Tennessee, receiving a B.S. in Accounting. He and his wife Melodye Gwynne Brown reside in Rome, Georgia. Incidentally, Ms. Brown served as State Regent of Georgia State Society of the Daughters of the American Revolution (2018-20).
Community leadership and enhancement of community assets and opportunities has been a life-long commitment. At a young age, Mr. Hollis was elected and honored to serve as Mayor of his hometown. His administration's accomplishments included important improvements to public services, renovation of public utilities facilities and operations, and capitalizing on the city's heritage as a historic tourism destination. Mayor Hollis was recognized by the Tennessee Municipal League with their 1992 "Excellence in Management" Award. Following his service as Mayor, Chamber Director Tom Waychoff asked Mayor Hollis to lead an effort to establish a County Tourism Council. After seven years as organizing chair, the Chamber of Commerce adopted Tourism as an important arm of the Chamber's work and employed permanent staff. The Council serves an essential role in perpetuating tourism initiatives in Dickson County, Tennessee. Appointed by County Mayor Janet Harris, he was honored to furnish leadership as chair of the Board of Trustees for the Dickson County Public Library, leading a successful effort for a new and expanded facility with enhanced services. He also served as Mayor Harris' personal representative as a member of the Regional Transportation Authority, a quasi-governmental organization that successfully established commuter rail service in Middle Tennessee. He also served as co-chair of the Development Board that assembled a public-private partnership and established Dickson's Clement Railroad Hotel Museum, and served as chair of Dickson County's Bicentennial Commission, among other community and civic roles. Since 1990, he has chaired Charlotte's Town Cemetery Board. The historic cemetery was established in 1808.
Professionally, Mayor Hollis was licensed as a Realtor® in 1982 and has enjoyed a long career in many facets of real estate. As a broker, developer, project manager, and community association manager, he has coordinated the development of numerous subdivisions and coordinated the restoration of several historic properties. Notably, he served as project manager for the conversion of an underground limestone mine into a one million square feet underground storage facility, as well as the development of GreyStone Golf Club in Dickson. As a Community Association Manager, he has expanded his company's contracts by introducing community association management to the Clarksville, Tennessee market. Previously, he has served as President of the Dickson County Board of Realtors and Executive Committee Member and Vice President of the Tennessee Association of Realtors®. As chair of the Planning Commission's Zoning Resolution Committee, his group drafted and obtained approval of the initial Dickson County Zoning Ordinance.
An active local historian and genealogist and member of more than 25 lineages, genealogical and historical societies, he has volunteered his time to help lead several national, state, and local organizations, including the Sons of the American Revolution, the SAR Foundation, Descendants of Washington's Army at Valley Forge, and Jamestowne Society. Mayor Hollis has concluded a term as President General of the General Society of the War of 1812. His 1812 administration, ending in 2020, was guided by what he described as a "2020 Vision" for the Society's goals. The highlight of his administration's accomplished objectives was an agreement between The General Society of the War of 1812 and the New England Historic Genealogical Society (NEHGS) to preserve the Society's records by digitizing, publicizing, and safeguarding them in NEHGS's secure facilities. He chaired the SAR Magazine Committee for a few years and has served as Editor of THE 1812 WAR CRY, JAMESTOWNE MAGAZINE, THE ENCAMPMENT NEWSLETTER (Descendants of Washington's Army at Valley Forge), and TENNESSEE SAR NEWSLETTER, among others. He has been commissioned as a Kentucky Colonel by Governor Steven L. Beshear (2015) and commissioned as an Arkansas Traveler by Governor Asa Hutchinson (2019).
Mayor Hollis is proudly a tenth generation Tennessean through George Ridley who established Ridley's Station, one of Nashville's early settlements. His family's longevity in Tennessee is amplified by his ninth great-grandfather Captain James Hollis, Sr. who recorded the 21st deed at the Watauga Settlement in what is now Upper East Tennessee. He became one of the first settlers in Middle Tennessee in 1780, arriving as part of Colonel John Donelson's Flotilla. Captain James Hollis's son, Isaac Hollis, was one of 16 4th and 5th great-grandfathers who, as Tennessee Volunteers, fought with General Andrew Jackson during the Creek War and at Chalmette in the Battle of New Orleans.
Memberships
General Society of the War of 1812 (President General 2017-2020)

National Society Sons of the American Revolution (Executive Committee; Vice President General, Southern District; Trustee, 3 terms; President, Tennessee Society)

Sons of the American Revolution Foundation Board (2015-2018)

National Society of the Descendants of Washington's Army at Valley Forge (Inspector General)

General Society of Colonial Wars (Governor, Tennessee Society)

Jamestowne Society (Councilor)

Aztec Club of 1847 (Assistant Secretary)

Order of Indian Wars of the United States

National Gavel Society

Huguenot Society of the Founders of Manakin in the Colony of Virginia

General Society Sons of the Revolution

Order of Descendants of Ancient Planters

National Society Sons of American Colonists

National Society Descendants of Early Quakers

National Society Sons and Daughters of Pilgrims

National Society Sons and Daughters of Antebellum Planters

Sons and Daughters of the Colonial and Antebellum Bench and Bar

First Families of Kentucky

Order of the First Families of Maryland

First Families of Ohio

First Families of Tennessee

First Settlers of the Shenandoah Valley

National Order of the Blue and Gray

Military Order of Stars and Bars

Sons of Confederate Veterans

Descendants of Mexican War Veterans

Presidential Families of America

Direct Descendants and Kin of David Crockett