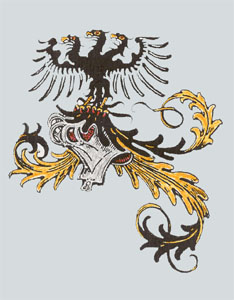 Henry Lyman Parsons Beckwith was born 22 May, 1935 in Providence, Rhode Island, the eldest son of Henry L.P. and Sarah Cutler (Greene) Beckwith. He is married to Alice Hayes (Reid) Hauck Beckwith, and they currently reside in Wickford, Rhode Island.
Memberships
Society of the Cincinnati in the State of Rhode Island and Providence Plantations (Secretary)

Order of the Crown in America

Saint Nicholas Society of The City of New York

General Society of Colonial Wars (former Governor of the State of Rhode Island and Providence Plantations Society)

Colonial Order of the Acorn

Order of Americans of Armorial Ancestry

Society of Descendants of Knights of the Garter

Aztec Club of 1847

Order of Founders and Patriots of America

Military Order of the Loyal Legion of The United States

Order of Indian Wars of the United States

General Society Sons of the Revolution

National Society of the Sons of the American Revolution

Descendants of the Illegitimate Sons and Daughters of the Kings of Britain

Huguenot Society of South Carolina

Artillery Company of the City of Newport, Rhode Island
Heraldry
Mr. Beckwith has been interested in heraldry since childhood. He has been Secretary of the Standing Committee on Heraldry of the New England Historic and Genealogical Society, founded in 1864. It is the oldest unofficial body concerned with heraldry in the world. Mr. Beckwith has served in this role since 1969, a post he inherited from a distant kinsman. He belongs to several international heraldic groups, and has published a number of studies on armory in various journals. Mr. Beckwith has also been qualified and has given testimony as an expert witness in Federal Court in the areas of heraldry, flags, seals, and cognate matters. Mr. Beckwith also serves on The Heraldry Committee of the New York Genealogical and Biographical Society, founded in 1869.
Notes
Mr. Beckwith is the fourth generation of his family to serve the Diocese of Rhode Island as a member of The Committee of Management of the Old Narragansett Church, built in 1707. He is the third generation member of his family to serve as a member of the trustee board of The Gilbert Stuart Memorial. He has served as a trustee of the Rhode Island Historical Society, and is a co-life trustee of the Greene Cemetery Fund. In addition, Mr. Beckwith has served as a trustee of the Anne Kinsolving Brown Military Collection, now owned by Brown University.

Mr. Beckwith has also served on a number of committees and commissions of the Town of North Kingstown, Rhode Island, including the Conservation Committee and Tree Board; the Historic District Commission; the Wickford Planning Committee; and formerly on The Updike Park Restoration Committee, which he also chaired.