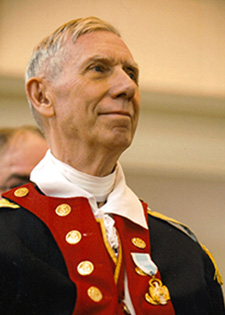 CAPT George James Hill, MC, USNR (Ret.) a native of Cedar Rapids, Linn Co., Iowa, is the son of Gerald Leslie Hill and Essie Mae (Thompson) Hill. He married Helene Zimmermann Hill, and their children are James Warren Hill, David Hedgcock Hill, Sarah Hill, Helena Rundall Hill.
George was educated in public schools in Iowa, and then attended Yale College, where graduated with B.A. with High Orations in 1953. He attended Harvard Medical School and graduated with an M.D. Initiating post grad studies in 1957, George attended Harvard Business School, 1976; received an M.A. from Rutgers University, in History in 1999; and received his D.Litt. from Drew University in 2005.
George served in the U.S. Marine Corps Reserve, from 1950-1952 as a corporal, and then in the U.S. Public Health Service Reserve, 1960-1968 as a Senior Assistant Surgeon (now Lieutenant); then the U.S. Navy Reserve, Medical Corps, 1968-1996; Lieutenant Commander to Captain; retired 1996.
George has been a luminary in the lineage society community, serving as Governor General in the Descendants of Founders of New Jersey; Order of the First Families of New Hampshire. He was the Vice President General of the Sons of the American Revolution; and Deputy Governor General of the General Society of Mayflower Descendants. Hill's list of lineage society membership and leadership position is as impressive as any.
He was an Eagle Scout, Class of 1949; Distinguished Eagle Scout Award; Class of 2005; BSA Silver Beaver Award Recipient; He was the Chairman, Clinical Cancer Education Committee, National Cancer Institute - a Study Section, chartered by the U.S. Congress; a member of the Dean's Advisory Cabinet for Rutgers University; Professor of Surgery at Rutgers University.
Hill is a Warden in the Church of the Holy Innocents of West Orange County; a past President of Sigma Xi Honor Society, Newark Chapter; a faculty member of Alpha Phi Omega Honor Medical Society, and a Fellow of the Society of Surgical Oncology: Council member. He received the United States Navy's Meritorious Service Medal; the Navy Unit Commendation Ribbon; the Navy Meritorious Unit Commendation Ribbon; the Navy Viet Nam Service Medal with one Campaign Star; and countless other awards from his service to our country.
Socially, George is a member of the Yale Club of Central New Jersey: President; Association of Yale Alumni Club Service Award.