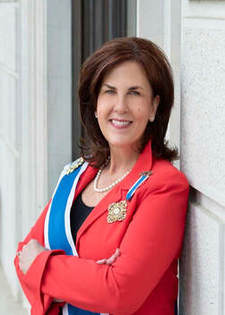 Denise Doring VanBuren stepped into the role of President General of the Daughters of the American Revolution equipped with the wisdom and experience gained during concurrent careers in the volunteer and professional realms. In more than three decades as a DAR member, she has held leadership positions including First Vice President General, Organizing Secretary General and New York State Regent. While carrying out this important work, Mrs. VanBuren simultaneously spent 15 years serving as editor in chief of the DAR publications, American Spirit magazine and Daughters newsletter.
Mrs. VanBuren's robust professional career further enhances her skill set as a leader, businesswoman and communicator. A former radio and television news anchor, in 1993 she found a new professional home at Central Hudson Gas & Electric Corporation, where she rose to the position of Vice President of Public Relations. She retired with 26 years of service in 2020 as the longest-serving female officer in company history.
Each aspect of Mrs. VanBuren's accomplished career informs her approach to leading the 185,000 members working to further the DAR mission in 3,000 chapters across the United States and abroad. As Chief Executive Officer of the nonprofit organization, Mrs. VanBuren also supervises a staff of 140 at the historic DAR National Headquarters complex in Washington, D.C.
In addition to the ongoing responsibility to safeguard the financial stability of the National Society and provide leadership training across all levels of the organization, Mrs. VanBuren brings ambitious goals to her term as President General. The VanBuren Administration aims to complete the final phase of the DAR Constitution Hall restoration, increase membership to 200,000 by June 2022, and establish a dedicated funding stream for historic preservation projects by refocusing the Special Projects Grants Committee as the DAR Historic Preservation Grants Program.
The theme "Rise and Shine for America" encapsulates the overarching vision of the VanBuren Administration: to encourage members to rise up and do good works in their communities, and to empower them to take ownership of the DAR story. By harnessing the power of community outreach, as well as traditional and new media, chapters will shine, thereby helping more women discover the passion and purpose DAR membership can provide. Succeeding on these fronts will not only enrich countless communities, but also correct the common misconception that most DAR members are elderly, inactive and preoccupied with social events.
"We are the living embodiment of the promise of America," said Mrs. VanBuren. "For too long, we have allowed others to paint a picture of us that does not reflect our vibrancy and accomplishments. I hope that we can together strive to gain more exposure and appreciation for all that DAR does around the world."
Her own DAR journey has provided a continuing education in the history of the 130-year-old women's volunteer service organization. A devotee of historic preservation and local history, Mrs. VanBuren initially connected with the DAR mission in 1988 as a new member of Melzingah Chapter, which owns the circa-1709 Madam Brett Homestead in Beacon, N.Y. Her interest soon expanded into other facets of the organization's work, such as supporting active-duty military personnel and veterans—two areas of personal significance to Mrs. VanBuren, a Blue Star Mother who is also the daughter of a World War II U.S. Navy navigator.
In recent years, Mrs. VanBuren took part in a trio of big-picture projects that offered the opportunity to illustrate what DAR does, what the organization stands for and what its members have accomplished. Participating in the celebration of DAR's 125th Anniversary, being involved with the America 250! Committee, and helping to shape the Celebrate America Committee, now known as the Service to America Committee, all provided points of inspiration for the VanBuren Administration's theme.
Mrs. VanBuren, a cancer survivor, attributes her tireless work ethic to the late-1980s diagnosis that inspired her to make the most of each day. That philosophy applies not only to DAR, but also to her extensive community involvement in the Hudson River Valley, where her ancestors settled 400 years ago. Currently, Mrs. VanBuren sits on the boards of directors of organizations such as Boscobel House and Gardens, Fishkill Rural Cemetery and Hudson River Valley Institute at Marist College. She has also authored four books.
In recognition of her wide-ranging impact in the areas of philanthropy, historic preservation and business, Mrs. VanBuren has received many honors and awards, from City of Beacon Volunteer of the Year in 1999 to the Washington's Headquarters Woman of History Award in 2016 to induction into the State University of New York at New Paltz Business Hall of Fame in 2018.
Her election as DAR President General ranks among the highest honors to date. For Mrs. VanBuren, the joyful obligation to support the National Society's critical mission of service spun into a thread that runs through the fabric of her entire adult life.
"Every opportunity that I have been given to serve has made me a better person, member and citizen," Mrs. VanBuren said. "Our mission serves as a beacon for me in my personal life as to what truly matters when each day is done."
Apart from her professional and philanthropic pursuits, Mrs. VanBuren treasures time spent with her three adult sons, all past C.A.R. members. She and her husband, Christopher G. Barclay, devote the majority of their free time, energy and savings to restoring two quirky, 19th-century historic homes—a former dairy farm in the Hudson River hamlet of Chelsea and a cottage in the Adirondack Mountains.