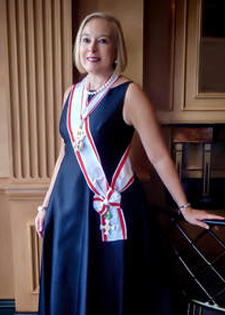 Martha Ellen Wright Tozer was born in Ozark, Alabama, to Mr. and Mrs. George Dewey Wright, Jr. She is married to David Knowlton Tozer and they have two children, George Knowlton Tozer and Henderson Wright Tozer.
Mrs. Tozer attended Vanderbilt University, Nashville, TN 1971 to 1975, where she graduated with a BA Degree in Art History and History. She attended Leysin American College, Leysin, Switzerland 1971, Diploma Program, French Language and History, The Corcoran School of Art, Washington, DC 1977 to 1980, with Photography Concentration.
Professionally, in Washington, Ellen was employed by the Corcoran Gallery of Art as Director of Retail Operations, where she directed all operations of the Museum Shop business, including opening two off-site stores for the Corcoran and fourteen satellite stores. In 2009, she was asked to consult for a new museum store startup and oversaw the opening of the Katzen Arts Center at American University. She also traveled throughout the Baltic to consult for Boutique Sales for Princess Cruise Lines. Ellen then joined the staff of Tiffany & Co. as an Operations Professional working with inventory management, merchandising, customer service and business accounting. Of particular interest was working with the one of a kind pieces in the Tiffany Blue Book Collection.
In 2011, Ellen began at the National Geographic Society and is responsible for all aspects of the retail store business, including product development, buying, marketing, staffing and budgeting. She especially enjoys developing community relationships with artists, and traveling to source items from around the world for the business. She continues to enjoy her work at the Society and is an active member of the Museum Store Association and the American Alliance of Museums.
Memberships
Order of the Crown of Charlemagne in the United States (President General of America)

National Society of Americans of Royal Descent (First Vice-President)

Colonial Dames of America (Chapter XXIV Atlanta Chapter)

The Order of the Crown in America (Maryland Counselor)

The Huguenot Society of the Founders of Manakin in the Colony of Virginia

Ancient Heraldic and Chivalric Order of Albion

One Hundred Living Descendants of Blood Royal

Ligon Family and Kinsmen Association

National Gavel Society

National Society Daughters of the American Revolution
Other Memberships
Other Notes
Ellen has been involved at St. Francis Episcopal Church in Potomac, Maryland since 1987. She served four terms on the Vestry as Junior and Senior Warden and was a Board member of St. Francis Episcopal Day School. She has chaired the Potomac Country House Tour, the Auction, the Patrons and Friends Committee and the Art Show. She served as Convener for the Lay Committee for a new Associate Rector and a Seminarian. She is on Altar Guild, the Usher team and is a Chalice Bearer.