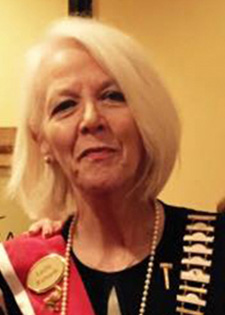 Leslie descends from a southern belle mother with German and Scots Irish ancestry and a father whose paternal ancestry goes back directly to Holland for many generations on the male line. Her paternal grandmother gives her wonderful New England and early colonial roots primarily in CT and MA, her ancestors having arrived in America beginning with the Mayflower, through the Great Migration and into the mid-19th century - a virtual genealogical alphabet soup. Each of these categories contains multiple soldiers and individuals who served in many public service roles. And there are plenty of farmers too! She and her husband, Jonathan B. Richards II, are the parents of a total of six children between them and she is the grandmother of one little boy in Maine, likely to be her only grandchild. She has two children, one an Information Technology professional and the other a physician. Mrs. Richards has joined her husband in his passion for antique automobiles, helping him and his cohorts with researching the history and whereabouts of famous and interesting Cord automobiles, as well as others. She is also currently writing a catalogue raisonne on late 19th and early 20th century Rhode Island artist Walter Sherwood whose works she and her husband collect. She continues her research and collecting of Dutch (Makkum) pottery produced by potter Gerrit Wykstra in partnership with her great great Uncle Theake van der Meulen in NY and later in Michigan until Wykstra's death in 1949. In between times Leslie continues to research her own and her husband's family history, finding her step-children and husband have more Mayflower passengers in their trees than she does, but always delighted when she discovers the cousinships they all share in New England.
Leslie Vander Meulen Richards was born in St. Louis but has no Missouri roots, her parents, Ralph Folkert Vander Meulen and Sally Jo Kilgore, having moved there shortly after World War II for her father's career.
Richards is presently the administrative manager for a nationwide answering service/call center company in St. Louis. She is the owner/president of Alexis Antiques, Inc., an international mail-order specialist in Wedgwood English ceramics, which includes a subsidiary marketing ceramic college wares. Former National Account Manager and Regional Business Manager for a nationwide computer service corporation, and Branch administration manager and sales account manager in its earlier parent company providing hardware/ software/ maintenance sales. Before marriage and children, she worked in hospital administration, developing and implementing admission and scheduling computerization procedures and supervisory positions in the admissions department.
Society Memberships
National Gavel Society (Life Member)
Society of Mayflower Descendants in the State of Missouri (Past State Governor; Past Deputy Governor General; past State Historian & State Secretary)
National Society of New England Women (Three Flags Colony Registrar; Past Colony President; National Committee Chairman; past National Chairman 100th Anniversary Celebration; past Director General; Chaplain General; Organizing Secretary General; 3rd and 1st Vice President General; President General 2005-2008; Honorary President General for life; National Chairman 125th anniversary (2020) committee)
Colonial Daughters of the Seventeenth Century (Missouri Chapter Number One; Past Recording Secretary and Registrar; current President; Past Organizing Secretary General; past 2nd VPG & National Chairman; President General 2015-2018; Honorary President General for Life, National Chairman 2021-2024)
National Society Daughters of the American Revolution (Past Chapter chairman; director; officer and Regent; past State Chairman; past National Vice-Chairman; National Vice-Chairman, Magazine, 2022-2025)
National Society Children of the American Revolution (Past Sr. State officer; Honorary Senior State President; past Senior National Vice President, Great Plains Region, Mrs. Niebell's administration 1990-92)
Warren Cousins (Life Member; Founding National Secretary)
The National Society, Magna Charta Dames and Barons (Life Member; MO Division, past Division Officer; Regent 2013-2017, 2021-2025; Past National Herald; National Vice-President)
Daughters of the American Colonists (Past Chapter officer, chairman and Regent; Past State Chairman, Past National Sectional Vice-Chairman)
National Society Daughters of the Union 1861-1865 (Organizing Treasurer, DeWitt Clinton Jones Chapter; Past Chapter Regent; National Society Past Director General, Membership)
Daughters of Colonial Wars ( National Parliamentarian, 2019-2022, National Chairman; Missouri State President and past state officer)
United Daughters of the Confederacy (Past Chapter Registrar, Finance & Bylaws Committee; past Division Chairman)
St. Louis Confederate Monument Association (Secretary)
National Society Dames of the Court of Honor (Missouri Society, Trustee, Past Vice President; Past National Chairman)
National Society United States Daughters of 1812 (St. Louis Pioneer Chapter Past Registrar and Past Historian; past State Chairman; Registrar; Vice President)
Continental Society Daughters of Indian Wars (National Chairman, Scholarships; Honorary Missouri State Governor)
Sovereign Colonial Society Americans of Royal Descent (Life Member)
Most Noble Order of the Garter (Life Member)
Dutch Colonial Society (Life Member, former Patroon, National Secretary and National Vice-President; President 2022-2024)
Daughters of the Union Veterans of the Civil War, 1861-1865 Department of Minnesota
Ladies of the Grand Army of the Republic, Litchfield, MN, Frank Daggett Circle #105
The National Society Colonial Dames of America in the State of Missouri (Past State Chairman Historic Properties; past State Registrar)
Daughters of the British Empire, Lord Mountbatten Chapter (Past chapter Recording Secretary & Vice-Regent; Past National Bylaws committee)
Women Descendants of the Ancient and Honorable Artillery Company (MO Court reorganizing President, Parliamentarian National 2019-2022, Editor The Broadside 2019-2025; Organizing Secretary General 2022-2025)
National Society Southern Dames of America, East TX Society
National Society Descendants of American Farmers (Charter Member)
The IX
Descendants of American Prisoners of War
Genealogy & Historical Associations
Ancient Burying Ground Association, Inc.

Bolduc House Museum Friends, Ste. Genevieve, MO

Brecksville (OH) Historical Assn., Inc.

Committee for the Commemoration of the Battle of Ft. San Carlos (MO) (Vice President)

Dunkirk (NY) Historical Society and Museum (Life Member)

French Colonial America, Ste. Genevieve, MO (former Board Member & Secretary)

Genealogical Society of Whitley Co., IN

National Genealogical Society

Harrisonburg - Rockingham County (VA) Historical Society

Historical Society of Medway, Massachusetts

Historical Society of Medfield, Massachusetts

Historical Society of Whitley County, IN

Honorable Order of Kentucky Colonels

New England Historic and Genealogical Society

Massachusetts Society of Genealogists

Plymouth County Genealogists, Inc. (MA)

Sappington Concord Historical Society (MO)

Sappington Family of America

Sappington House Foundation, Crestwood, MO

St. Louis Genealogical Society

Whately (MA) Historical Society

Williamsburg (MA) Historical Society
Authorships
Wedgwood Eye Baths and the Collection of Ray Stenseth, R.Ph., Ph.D. St. Louis, MO; Wedgwood: Collectors, Collecting & Collections, Proceedings of the Wedgwood International Seminars, #46, 47 & 48.
Wedgwood – Coming to America and the Voyage of the Mayflower; Wedgwood and America, Proceedings of the Wedgwood International Seminar #50, Philadelphia.
Dunkirk Delft: A Dutch Potter Comes to America, American Ceramic Circle Journal, Volume XVIII – publication resulting from receipt of a research grant from the ACC.
Listed In
Two Thousand Notable American Women, Sixth Edition

Sterling Who's Who, Executive Edition, 1994-1995

World Who's Who of Women, 1994-1995

Continental Who's Who of Business 2009-2010

NSDU Centennial Ancestor Book Vol 1 & 2

Hereditary Society Blue Book, 1992, 1994-2000
Professional Memberships
Wedgwood Society of Boston

Wedgwood International Seminar

Wedgwood Society of NY

Wedgwood Society of Southern California

Wedgwood Society of New South Wales

Wedgwood Society of Australia, Inc.

Wedgwood Society of Queensland

Wedgwood Society of Washington, DC

Wedgwood Society of London
Other
Honorable Order of Kentucky Colonels

Kurn Hattin Homes, Westminster, VT Board of Incorporators

Past Trustee, Hampton Park Subdivision, Richmond Heights, MO, (National Register of Historic Places, Placement Committee member)

St. Louis Symphony Volunteer Association (former Board member and chairman, Symphony Showhouse, major fund-raiser)

Kirkwood (MO) High School Alumni Association (Founding member & Past President) (50,000+ members)

Kirkwood (MO) School District Foundation (Past Board Member)

Member - Auburn, Cord, Duesenberg Club