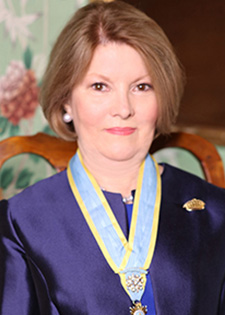 Anna Boykin Ferguson Duff, a native Georgian, is the daughter of Lonnie Dunlap Ferguson and Georgia Angeline Boykin Ferguson. She is married to Steven Wayne Duff and they reside in Ponte Vedra Beach, Florida.
Mrs. Duff's childhood education was in Thomasville, Georgia and she later graduated from the University of Georgia in Athens with a major in Furnishing and Interiors. She has been a member of the NSCDA for thirty plus years. During that time, Mrs. Duff has been a member of the Georgia, North Carolina and New York Societies, serving three years as President of the latter. She served as National President of The National Society of the Colonial Dames of America and the fourth member of the New York Society to be elected to that office in the history of the organization. Prior to being installed as President of the NSCDA, she served as Vice President NSCDA National Headquarters Dumbarton House and Chair of the National Museum Properties Committee.
Society Memberships
National Society of The Colonial Dames of America (National President)

National Order of the Knights of the Golden Horseshoe

Ancient Heraldic and Chivalric Order of Albion

National Society Americans of Royal Descent

Order of the Merovingian Dynasty (Second National Vice President General)

Order of the Crown of Charlemagne in the United States of America

Order of the Crown in America

National Gavel Society

Order of Three Crusades 1096-1192

Chivalric Orders

Sovereign Military Order of the Temple of Jerusalem (Priory of St. Michael and St. George)
Notes
Mrs. Duff serves on the Board of Regents of Gunston Hall Plantation and is a Trustee of the Friends of Sulgrave Manor. She is an accomplished pianist and enjoys playing for friends. The Duffs are Episcopalians. Mrs. Duff and her husband enjoy traveling, entertaining and playing golf whenever possible.