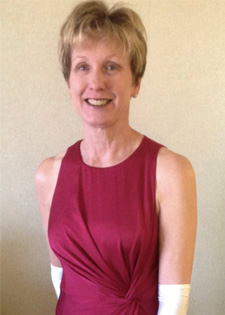 Laurie Ann Cornwell Aldinger is a native of Wisconsin born to Donald and Joyce Cornwell. She is married to Thomas Lee Aldinger and they have three sons: Tony, Michael and Steven. Laurie holds a B.A. in Accounting from North Central College, and a M.B.A. in Financial Accounting from Illinois Benedictine University. She is currently the Treasurer for Epiphany Formation. Laurie and her husband Tom remain active in a variety of civic and historical groups, and Laurie is currently enrolled at the College of Charleston, studying the Classics.
Past employers include Zodiac Boats (SC), Carolina Speech and Language (SC), McDonald's Restaurants Ltd (London), and Chicago Bridge & Iron (IL).
Laurie's contributions to the lineage society community are extensive, and she has provided primary leadership in a number of organizations.
Membership
Hereditary Order of Descendants of Colonial Governors (Honorary Governor General)

National Americans of Royal Descent (Third Vice President)

Order of the Crown of Charlemagne of the USA (Treasurer)

Baronial Order of Magna Charta (Treasurer)

Military Order of the Crusades (Treasurer)

Order of Medieval Women: Women of Consequence (Recording Secretary)

Colonial Dames of America (Chapter XXXI President)

One Hundred Living Descendants of Blood Royal

Order of the Merovingian Dynasty

Order of the Three Crusades

National Society of Saints and Sinners

Ancient Heraldic and Chivalric Order of Albion

National Society of Dames of the Court of Honor (South Carolina Chapter President)

National Society Colonial Dames of 17th Century (South Carolina State Treasurer)

National Society Daughters of American Colonists (Chapter President)

National Society Daughters of Colonial Wars, Chapter Treasurer

National Society of the Daughters of American Revolution

National Society Daughters of 1812

Daughters of Colonial Wars