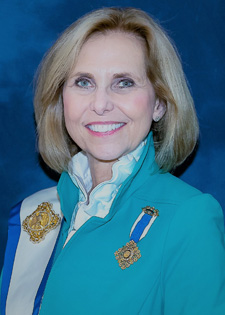 Lynn Forney Young was born in Houston, Texas, the daughter of the late Byron Parish Forney and Patricia O'Tyson. She is married to Steve Young and they enjoy their two children, and three grandchildren.
She attended Stephen F. Austin State University and earned a B.S. from the University of Houston. She is currently a co-owner of the family cattle business, San Andres Cattle Co., LLC.
Highlights of her term as President General, NSDAR (2013-2016) included celebrating the 125th anniversary of the founding of NSDAR, the first DAR Day of Service and achieving the Guinness World RecordTM for patriotism during the 125th Continental Congress. Further, the generous support of members established a permanent endowment fund for the preservation, restoration and conservation of the historic DAR headquarters near the White House.
Memberships
Colonial Dames of America (Chapter VIII)
Daughters of the Republic of Texas
National Society Daughters of the American Revolution (Honorary President General, Past Recording Secretary General, Honorary State Regent of Texas DAR, Honorary Chapter Regent of Tejas Chapter DAR, National Chair America 250! past National Chair Americanism Committee, former VAVS Volunteer, President Outstanding Junior Club, State Vice Regents Club, member Heritage Club, Founders Club, Sustaining Supporter, Established the Guardian Trust Endowment Fund
Founders Fellowship (Organizing Historian General)
Order of the Monarchs of Rheims (Organizing Member)
Hereditary Society Community (Honorary Advisory Council member, Class of 2016)
Jamestowne Society, Houston Colony
National Gavel Society
Baronial Order of Magna Charta
Order of the Crown of Charlemagne in the United States of America
Texas Genealogical College (Co-Founder and Past President)
National Society Magna Charta Dames and Barons
Children of the American Revolution (Past Senior State President, Past Vice President, South Central Region, Past Senior Society President, James Bates Society)
National Society Descendants of American Farmers
Other Notes
Mrs. Young is active in her church, currently serving as Chairman of the Board of Stewards.
She served as Chair of the Milam County Historical Commission for four years and serves on the Executive Board of the El Camino Real de los Tejas National Historic Trail Association.
Mrs. Young also serves on the Board of Trustees of the Kate Duncan Smith DAR School.
Mrs. Young is one of sixteen private citizens appointed by the United States Congress to serve on the United States Semiquincentennial Commission (America 250). She serves on the executive board of America 250 and the America 250 Foundation. She also chairs the Governance Committee and serves on the Government Relations Committee. She is a frequent speaker on America 250.
Honors and Awards
Delta Zeta Sorority Woman of the Year 2014
Inspire Women Outstanding Community Leader 2007
Sons of the American Revolution Martha Washington Medal, Daughters of Liberty Medal, Medal of Appreciation