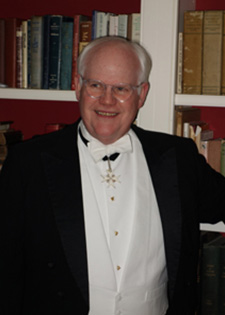 Julian Victor Brandt III, a native of Charleston, South Carolina, is the son of Julian V. Brandt, Jr. and Cather McD. Brandt. He is married to Anne Standish (Read) Brandt. The Brandts have three children and reside in Charleston.
Mr. Brandt was graduated from the The Citadel with a B.A. in History. Mr. Brandt's career has been in the real estate sale and development sector. His company, of which he is the founder and proprietor, specializes in sales and leasing of historic residential and commercial properties. Mr. Brandt's company has restored over forty historic properties; many qualifying for historic tax credits and conservation easements.
Memberships
Ancient Heraldic and Chivalric Order of Albion (Council Member)

One Hundred Descendants of Blood Royal (Honorary Member)

Huguenot Society of South Carolina

General Society of Colonial Wars (Council Member, South Carolina Society)

Society of First Families of South Carolina 1670-1700 (Vice President)

Society of St. Thomas & St, Denis 1706 (President)

La Société Française de Charleston (Past President fifth-generation member and fourth-generation Past President)

Hibernian Society of Charleston

Saint David's Society of Charleston (President)

General Society Sons of the American Revolution (Past President of the South Carolina Society)

General Society of the War of 1812 (Deputy President General)

American Friends of St. Georges and Descendants of the Knights of the Garter UK (President)

Saint George Society of New York

Royal Society of St. George, Carolinian Branch (President)

Military Order of the Stars and Bars
Chivalric Orders
Most Venerable Order of the Hospital of Saint John of Jerusalem (Rank of Commander, bestowed by Elizabeth II, Queen of England; Appointed by Her Majesty as Regional Chair and Priory Chapter Member)

The Honor bestowed upon me by Her Majesty is most important to me. As members of Hereditary Societies we are blessed with a goodly heritage. We must however remember our obligations to our ancestors to be worthy to represent them. Our memberships are both an honour and obligation. The obligation is to demonstrate that we are worthy.
Authorships
South Carolina and the Sea- Preserving Freedom 1800-1815: A Naval Chronology.

The Charleston Mercury

Multiple articles on South Carolina and regional history

Multiple book credits
Notes
Mr. Brandt holds membership in several or organizations including:
The Pilgrims of the United States

The Washington Light Infantry of Charleston: Meritorious Service Award

The Piping and Marching Society of Lower Chalmers Street (Philosophical Society)

The Footlight Players, Past President

College Preparatory School, Past Board Chairman

Middleton Place Hounds

State of South Carolina, Old Exchange Building Commission, Chairman

City of Charleston, Board of Architectural Review, Past Chairman

Charlestowne Neighborhood Association, Past Vice President

The National Alliance of Preservation Commissions, Founding Member

The Preservation Society of Charleston, Past Treasurer

Theta Commission, The Citadel, Kappa Alpha Order, Founding Member
He is a frequent lecturer on South Carolina, Colonial History and Preservation. The Brandts are members of Saint Michael's Episcopal Church.