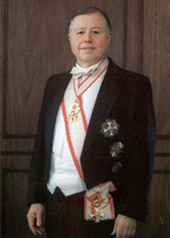 Timothy Field Beard, FASG, was born at Great Barrington, MA, the son of Stuart-Menteth Beard II, and his wife Natalie Sudler (Turner) Beard. He was married at Christ Church Methodist in New York City, September 12, 1963 to the former Annette Knowles Huddleston, who died in New York City January 28, 1995. She was the daughter of the late William E. Huddleston, Jr., of Clanton, Alabama and Alma F. Robinson of Gadsden, Alabama.
Mr. Beard was educated at the Indian Mountain School, the Berkshire School and was graduated from Williams College and Columbia University. During the Korean War, he was Supply Officer at Bordeaux Air Force Base in France.
Memberships
Society of the Cincinnati in the State of Maryland

General Society of Colonial Wars (Registrar General; Honorary Deputy Governor General, Societies of New York Connecticut)

Order of Colonial Lords of the Manor in America (President General; Genealogist General)

Order of the Crown of Charlemagne in the United States of America (past President General; Genealogist General)

Saint Nicholas Society of the City of New York (past President General)

National Society Americans of Royal Descent (past President General;

Genealogist General)

Ancient Heraldic and Chivalric Order of Albion

One Hundred Living Descendants of Blood Royal

Order of Descendants of Colonial Physicians and Chirurgiens (past President General)

Order of Indian Wars of the United States (Commander)

General Society of the Sons of the Revolution (past Registrar General)

Hereditary Order of the Descendants of Colonial Governors (past Governor General; Genealogist General)

Baronial Order of Magna Charta (Genealogist General)

The Military Order of the Crusades (Genealogist General)

Order of Three Crusades 1096-1192 (Genealogist General)

The Colonial Order of the Acorn (life member)

Saint Andrew's Society of the State of New York

Society of the Ark and Dove

Descendants of the Founders of Hartford
Genealogical Work
Mr. Beard served as Librarian in the Local History and Genealogical Division of the New York Public Library and was formerly Director of the Minor Memorial Library and the Hodge Memorial Library in Roxbury, Connecticut. He is the author of How to Find Your Family Roots (McGraw-Hill, 1977) and is a Fellow the American Society of Genealogists and the New York Genealogical & Biographical Society. Mr. Beard is Past President of the Connecticut Society of Genealogists.