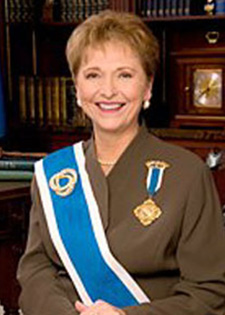 Merry Ann T. Wright was elected as the President General of the National Society Daughters of the American Revolution for the term of 2010-2013 at the 119th DAR Continental Congress, the annual convention, in July 2010. Wright has been a DAR member for 43 years with a distinguished service and professional background. She comes into the role after serving the National Society at every level, including being one of the first Presidents General to have also served on the NSDAR professional staff. These positions give her a unique understanding and expertise of management of this multifaceted membership organization.
Wright grew up in New Woodstock, New York, and now resides in Leland, North Carolina with her husband Lawrence F. Wright. She is the mother of two sons and two stepsons and grandmother of four. Mrs. Wright attended Franklin College of Indiana and University of the South in Sewanee, Tennessee. Her career has included, among other things, serving in the roles of Development Director, NSDAR; President and CEO of the American Lung Association of Mid-New York; and as a French teacher. In addition to Wright's extensive DAR service, she is also very active in her church and community, including serving on boards of local charities and being a past member of the Rotary Club and Association of Fundraising Professionals.
Wright was the first NSDAR Director of Development, being recruited by the organization to launch its first development department in 1998. She served in that position for nine years, building the foundation of successful funding initiatives that thrive today. Prior to that, Wright served as the Chief Executive Officer and President of the American Lung Association of Mid-New York in ten upstate New York counties for 13 years after serving for three years as their Development and Public Relations Director.
Wright retired as the NSDAR Director of Development in order to assume the second highest volunteer leadership position in the organization, the NSDAR First Vice President General, from 2007-2010. Her additional extensive national leadership service in the Daughters of the American Revolution include 12 years on the National Board of Management (the governing board of the Society), eight different national chairmanships, and four different national vice chairmanships.
This varied executive experience gave her liaison and oversight over such key committees of the Society as Public Relations and Media, the annual convention of DAR, Development, Long Range Planning, Personnel, Investment, Finance, and Special Projects and Events. She also spent six years on the Technology Advisory Committee, which was a driving force behind the digitization of millions of the National Society's genealogical records.
She has distinguished service in New York State, including serving as State Regent of New York, as well as many other state offices and chairmanships. She was twice honored as the DAR New York Outstanding Junior and was named one of eight division finalists for National Outstanding Junior of the year.
Additionally, Mrs. Wright is a member of Kappa Delta Pi, and is listed in the 1979 edition of Outstanding Young Women of America.
Memberships
National Society Daughters of the American Revolution (Honorary President General)
National Society Daughters of Founders and Patriots
National Gavel Society