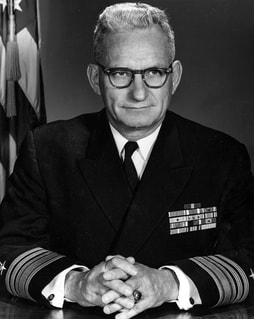 RADM Kleber Sanlin "Skid" Masterson, Jr., was born in San Diego, California. He and his wife, Sara Cooper Masterson, have two sons, Thomas Marshall Masterson, M.D. and John Cooper Masterson, Esq. RADM Masterson completed his undergraduate studies at the United States Naval Academy, where he graduated with a B.S. in General Engineering in 1954. He received his M.S. in Physics from the United State Naval Postgraduate School in 1961, and a Ph.D. in Physics from the University of California, San Diego in 1963. Additionally RADM Masterson was graduated from the Advanced Management Program of the Harvard Business School in 1980. A Rear Admiral in the U.S. Navy during his career, RADM Masterson is also a retired vice president and partner of Booz Allen Hamilton Inc. and retired senior vice president of Science Applications International, Inc.
Memberships
Society of the Cincinnati (President General)
The Massachusetts Society of the Cincinnati (former President)
Authorships (Partial List)
The Book of Navy Songs, editor, Naval Institute Press, (1954, still in print).
"Compilation for Two Computers with NELIAC"; Communications of the Association for Computing Machinery 32, 607 (1960).
"The Influence of Diffusion Losses on the Probe Potential in a Dense Plasma," with G. Ecker; 13th Gaseous Electronics Conference, 12-15 October 1962, Monterey, California.
"Nuclear Matter Calculations and Phenomenological Potentials," with K.A. Brueckner, Physical Review 128, 2267 (1962).
"Probe Theory in Dense Plasma," with G. Ecker and J. J. McClure; University of California Radiation Laboratory Report 10128, 21 March 1962.
"Properties of Finite Nuclei," with A. M. Lockett; Physical Review 129, 776 (1963).
"Uncoupled Nuclear Matter Approximation"; Physical Review 135, 776 (1963)
"Energy of a Many Particle Normal System," with K. Sawada; Physical Review 133, B595 (1965).
"Numerical Methods for the Many-Body Theory of Finite Nuclei"; Methods of Computational Physics, Vol. VI, edited by B. Alder, S. Fernbach and M. Rotenberg. Academic Press, New York, N.Y. (1966) "The President and Advisors on Science Policy" in "The President: Defense and Diplomacy, The Miller Center Forums, 1981, Part IV," edited by Kenneth W. Thompson, University of Virginia Press (1981).
Listed In
Who's Who in Science and Engineering 2011-2012, Marquis Who's Who
Who's Who in America 2011, Marquis Who's Who
Who's Who in the World - 27th Edition 2010, Marquis Who's Who
Dictionary of International Biography - 35th Edition, International Biographical Centre
Other Notes
Awards: Defense Superior Service Medal, Legion of Merit (3 awards), Navy Commendation Medal (3 awards, 2 with Combat "V")
Past President, Old Town Civic Association, Alexandria, Virginia
Past Chairman, Historic Alexandria Resources Commission