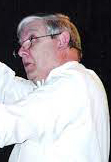 William Young Pryor, Esq., was born in Newark, NJ to William Walsh Pryor and Annie May Young. He was married to Marianna Love Brand and the father of Ann Love Pryor of West Milford, NJ and William Brand Pryor of Caldwell, NJ. He had two grandchildren Morgan and William.
Mr. Pryor was a 1931 graduate of Columbia University, New York City. He received his law degree from New York University Law School in 1934. He worked as an attorney in Newark and Montclair before retiring in 1972.
Mr. Pryor served as a sergeant in the Army during World War II and was also a Special Agent in the Counter Intelligence Corps in San Francisco, CA. After the war, he received the Royal Yugoslav War Medal for allied service that was presented to him by the late deposed King Peter II, whom he knew personally.
Memberships
Baronial Order of Magna Charta
Colonial Order of the Acorn
Colonial Society of Pennsylvania
Descendants of Founders of New Jersey (Founder)
Hereditary Order of Descendants of Colonial Governors
Huguenot Society of America (New Jersey President)
Military Order of the Crusades
National Society Sons of the American Revolution (Vice President General; Treasurer General; New Jersey President)
Order of the Crown of Charlemagne
Saint Andrew's Society
Sovereign Military Order of the Temple of Jerusalem
The Saint Nicholas Society of the City of New York
Other Notes
Mr. Pryor was a 34-year member of the Masonic Kane Lodge No. 454, F. & A. M. and was a recipient of the Dedicated Service Award.