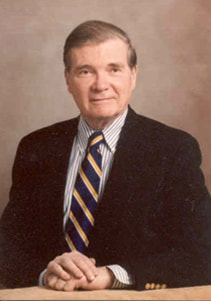 Col. Stewart Boone McCarty, Jr., the son of Stewart Boone McCarty, Sr. and Vivian Myers Simmons, was born in Kansas City, MO. Col. McCarty and his wife, Janet Dorothy (McCord) McCarty, are the parents of Anne Stewart McCarty Parker and Elizabeth Boone McCarty. The McCarty's lived in Fairfax, VA.
Col. McCarty graduated from the University of California at Los Angeles with an AB in Economics. He completed an MA in Management and Personnel Administration from George Washington University. Col. McCarty has completed graduate studies in Archaeology at Worcester College of Oxford University and the Catholic University of America.
A career military officer, Stewart Boone McCarty, Jr. entered active duty as an Officer Candidate March 1, 1944, and served as a Commissioned Officer in the Regular Marine Corps until retiring as Colonel on August 1, 1974. Col. McCarty commanded units from platoon to battalion, in combat and in garrison, interspersed with staff assignments and attendance at military schools. He has been awarded the Legion of Merit; Bronze Star Medals with combat "V" in Korea and Vietnam; the Purple Heart; the Meritorious Service Medal; as well as many other United States and foreign military awards. Col. McCarty is currently a consultant in management and foreign trade matters.
Memberships
General Society of Colonial Wars (past Deputy Governor General and past Governor of the Washington D.C. Society)

National Gavel Society (past President)

National Society of the Sons of the American Revolution (past President General; Minuteman Award Recipient; Patriot Medal Recipient)

One Hundred Living Descendants of Blood Royal

National Society Americans of Royal Descent

Order of the Crown of Charlemagne in the United States of America

Order of the Merovingian Dynasty

Hereditary Order of Descendants of Loyalists and Patriots (past Governor General)

General Society Sons of the Revolution (past President of the Washington D.C. Society)

Huguenot Society of Washington D.C. (past President)

St. Andrew's Society of Washington D.C. (past President)

Society of the War of 1812 (past President of the Washington D.C. Society)

Society of Descendants of Knights of the Garter (Treasurer of the American Friends)

Ancient Heraldic and Chivalric Order of Albion

Baronial Order of the Magna Charta

Jamestowne Society

Society of Boonesborough
Chivalric Orders
The Most Venerable Order of the Hospital of Saint John of Jerusalem (Officer Companion)

Sovereign Military Order of the Temple of Jerusalem (Grand Cross, former Grand Prior, Priory of St. King Charles the Martyr, Washington, D.C.)

Knight of Grace of the Military and Hospitaller Order of Saint Lazarus of Jerusalem
Other Notes
Col. McCarty was a member of Alpha Mu Gamma, the Army Navy Club of Washington D.C., and the Chouteau Society. He was a board member with three television stations, and served as Vice President of the Scientific Exploration and Archaeological Society. His avocations included skiing, scuba diving and biking.