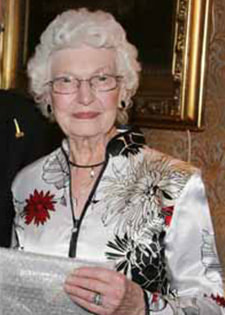 "Fritzi" Ysabelita Kranz Martin, the daughter of Martin E. Kranz and Ysabelita Hamilton Kranz. Mrs. Loftin was born in New Orleans, LA and was raised at Chreitian Plantatoin in St. Landry, LA. She attended school in New Orleans, and holds a B.A. and M.A. from Tulane University.
Mrs. Martin was married for fifty-two years to Jack Loftin Martin, an Entomologist, graduate of Auburn University who owned Martin Chemical Company. They had two children, Hamilton Loftin Martin and Ysabelita "Bee" Martin Little. Upon the death of her sister, they raised nephew Martin Kranz Perilloux.
Memberships
National Gavel Society
National Society Daughter of American Colonists (past National President)
National Society Southern Dames of America (past National President)
National Society of the Dames of the Court of Honor (Honorary President General)
Order of Descendants of Colonial Physicians and Chirurgiens (Honorary President General)
National Society Daughters of the American Revolution
Other Notes
Through the years her volunteer work included nine volunteer years with the Scouting program; five volunteer years teaching Great Books; chairing the Home and Garden tours for the Covington Chamber of Commerce Auxiliary for seven years.
Additionally, Mrs. Martin was a Vacation Bible School teacher and served on the board of the Salvation Army Ladies Auxiliary. She is a fifty (50+) year member of the Eastern Star.