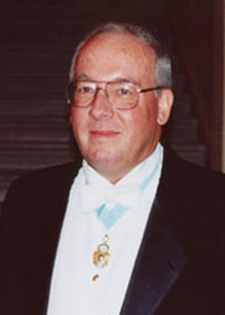 George Forrest Pragoff was born in Wilmington, Delaware. He attended Wilmington Friends School and the Lawrenceville School, after which he was graduated from Princeton University with his Bachelor of Arts degree.
Now retired, Mr. Pragoff was the Vice President at AIM Mutual Funds during his career. He is married to Page Harrison Pragoff, and they have two sons, David Harrison Forrest Pragoff and Edward Scott Pragoff. The Pragoffs reside in Centreville, Delaware.
Memberships
Society of the Cincinnati (President General)
Delaware State Society of the Cincinnati (former President)
Other Notes
Mr. Pragoff enjoys golf, fishing, hunting and travel. He is on the Board of Governors of the Wilmington Club, is a Director at the Aurora Gun Club, and a member of the Vicmead Hunt Club. Mr. Pragoff also serves on the Vestry of Episcopal Church of the Advent in Kennett Square, Pennsylvania.