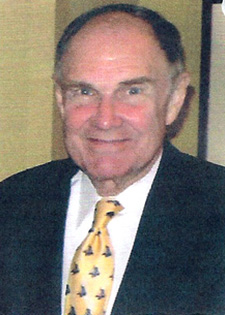 Thomas Clifton Etter, Jr., a native of Philadelphia, Pennsylvania, is the son of Thomas Clifton Etter and Mildred Evelyn Phillips Etter. He was educated at the Episcopal Academy in his early years, and was graduated with a B.A. in History from the University of Pennsylvania; an MBA in Finance Temple University School of Business; a J.D. at Widener University Law School; and an LL.M. at Georgetown University Law School.
Mr. Etter served in the First Troop Philadelphia City Cavalry (Troop A, 104th Cavalry, PA Army National Guard). He is married to the former Susan Mary Frances Atkins, and is currently a practicing attorney for the U.S. Securities and Exchange Commission in Washington, DC. Mr. Etter was formerly a stockbroker in Philadelphia.
Memberships
General Society of Colonial Wars (current Governor General)
General Society of the Cincinnati (Secretary of the Pennsylvania Society)
General Society of Sons of the Revolution (past General President)
Hereditary Order of Descendants of the Loyalists and Patriot of the American Revolution (Honorary Governor General)
National Society of the Sons of the American Revolution (former President of the District of Columbia Society)
General Society of the War of 1812 (former President of the District of Columbia Society)
National Huguenot Society (former President of the Washington, D.C. Society)
Military Order of the Loyal Legion of the United States (Associate Companion)
Sons of Union Veterans of the Civil War
National Order of the Blue and Gray
Society of the Sons of Saint George of Philadelphia
Society of the Friendly Sons of Saint Patrick of Philadelphia
Scotch-Irish Society of the United States
United States Cavalry Association
Veteran Corps of Artillery of the State of New York
National Gavel Society
Chivalric Orders
Most Venerable Order of the Hospital of Saint John of Jerusalem (bestowed by Elizabeth II, Queen of England; Officer Companion)
Sovereign Military Order of the Temple of Jerusalem (Grand Cross; past Prior, Priory of King Saint Charles the Martyr, Washington, DC)
Other Notes
Mr. Etter attends the Church of the Resurrection (Episcopal) in Alexandria, Virginia. He also belongs to the American Legion's Augustus P. Gardner Post No. 18 of Washington, DC of which he is a Past Commander, and the Alexander-Washington Lodge No. 22, AF&AM, of Alexandria, Virginia of which George Washington once served as the Worshipful Master.