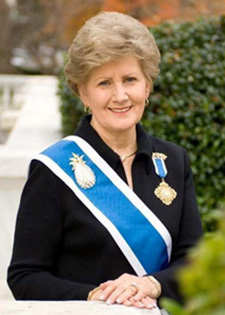 Linda Gist Calvin was born and raised in Visalia California, Linda Gist Calvin is married to Jerry Calvin, a retired manager of Jostens' Printing and Publishing. The Calvins have two sons, Brent and Brian; and six grandchildren (Lindsey Rose, Cooper Benjamin, Paige Nicole, Cade Aaron, Clio Magdalene and Rose Gold).
Linda attended College of the Sequoias and completed the business curriculum at Central Valley School of Business. She worked for Schenley Industries as Executive Secretary to the Director of Human Resources and Labor Relations before the birth of her children. She is currently the President and managing partner of the family-owned businesses.
Memberships
National Society Daughters of the American Revolution (Honorary President General)
Dames of the Court of Honor
First Families of Tennessee
National Gavel Society
Notes
Mrs. Calvin is a member of the Calvary Chapel Church of Visalia, children's ministry; member of National Assistance League - weekly classroom reading to elementary school children, editor of the monthly newsletter; served as Cub Scout Den Mother 4 years - scouts earned National Bicentennial patches by making Braille American flags for a school for the blind.
She has served as PTA President at junior high and high school levels and received the PTA Honorary Service Award. Additionally, Mrs. Calvin has served on Visalia Unified School District Superintendent's Advisory Committee, the Advisory Committee on School Athletics, the county-wide Suicide Awareness / Prevention Council; and is a member of many school athletic booster clubs.
Linda is a third generation DAR and was inspired by the dedication of her late mother, Peggy Gist and her late sisters, Barbara Jaggers and Carol Reeder. Their involvement in DAR was definitely been a family affair, all four having served as chapter regents and as California District V Directors. Linda and her two sisters served as pages on the state and national level, were California Outstanding Juniors, and served as National Chairman of the Guest Hospitality Committee. A summary of her involvement at all levels of DAR is included below:
National DAR Service
President General 2007-2010; Recording Secretary General 2004-2007; State Regent of California 2000-2002
National Chairman: Investment 2004-2007; Constitution Week 1998-2001; DAR Good Citizens 1995-1998; Guest Hospitality 1992-1995, Acting Chairman, 1997-1998
National Vice Chairman: Finance 2004-2007; Junior American Citizens Committee in Charge of the Contest, 1986; Junior Membership Committee in Charge of the Contest, 1980-1983
National Division Vice Chairman: Honor Roll 1986-1989, Junior American Citizens 1983-1986
Congressional Committees: Personal Page to Presidents General Mrs. Donald Spicer and Mrs. Wakelee Rawson Smith; Page at Continental Congress - 7 years; member and/or Vice Chairman Marshal Committee - 10 years; member Guest Hospitality Committee - 7 years
Other: Member, Long Range Planning Commission, 1998-2004; Executive Liaison, 2004-2007; Member, DAR Speakers Staff, 1998-2007
Club affiliations: Executive Club - Life Member; National Officers Club - Life Member; State Regents Club - Organizing Corresponding Secretary, Charter and Life Member; National Chairmen's Association – President 1999-2001, First Vice President 1997-1999, Recording Secretary 1995-1997, Life Member; Outstanding Juniors Club - Organizing Vice President, Life Member; State Vice Regents Club – Life Member; National Vice Chairmen's Association – Charter and Life Member; Heritage Club - Charter Member; Founders Club - Charter Member
Recognition: California Outstanding Junior, Western Divison Winner, 1980; Kansas Outstanding Junior, 1977; Unity of Spirit Award Recipient, 1999; Golden Key Award Recipient, 1998
DAR School: Tamassee and KDS Board of Trustees 2000-2002; KDS Endowment Fund Committee 2000-2007; Tamassee Advisory Committee and Crossnore Advisory Council; National Schools Tour Participant - 1995, 1999, 2001, 2004, 2007
Units Overseas chapter affiliations: Associate member John Edwards Chapter, Mexico; New Caledonia Chapter, Canada; and Pax Romana Chapter, Italy.
State DAR Service: Elected California Honorary State Regent for life, 2002; State Regent, 2000-2002; State Vice Regent, 1998-2000; State Recording Secretary, 1996-1998; State Chaplain, 1994-1996; State Chaplain, 1991-1992 (Filled unexpired term); District Director – 1992-1994 District Treasurer, 1990-1992
State Chairmanships: Constitution Week, 1990-92; Vice Chairman, 1988-90; DAR Magazine Committee 1986-88; Vice Chairman, 1984-86; Editor of the California Clarion, 1996-1998; Protocol, 1992-1998; California Congressional Tea 1999 and 2000; Manual of Procedures 1998-2000, Vice Chairman 1990-1992; Marshal Committee – 4 years; State Conference Committee Secretary 1985; Advisor to the State Regent, 2002-2004, 2006-2008; Advisor to the State Board, 2004-2006
Page: State Chairman or Vice Chairman, Page Committee – 8 years; Page – 10 years
Club affiliations: Past & Present Regents Association - Secretary and Vice President; State Officers' Club - Life Member; Cameo Club - Life Member; Past and Present Pages Association
Recognition: California's first Outstanding Chapter Regent,1989
Chapter DAR Service: Kaweah Chapter Regent – 1978-1980, 1988-1990; First Vice Regent (2 terms); Recording Secretary (3 terms) and numerous chairmanships, including American History, Constitution Week, DAR Good Citizens and Junior Membership. In order to remain an active member when her husband was transferred, Linda transferred her membership to Bellefonte Chapter, Pennsylvania in 1972, to John Haupt Chapter, Kansas in 1974, representing both chapters as a page at state conference and Continental Congress before transferring back to Kaweah Chapter, California in 1977.
SAR: Martha Washington Award, Daughters of Liberty Award, and Medal of Appreciation Recipient
N.S.C.A.R.: Kaweah Society C.A.R. Senior Society President, 1970-72 and 2004-2006; National Life Promoter (#836); State Golden Patriot; presented National Endowment Fund pin by Kaweah Society C.A.R. and Kaweah Chapter DAR