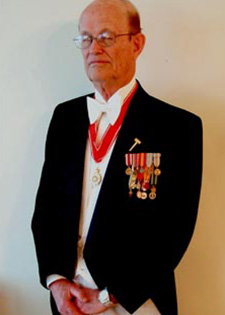 Carter Branham Snow Furr, Esq. was born and reared in Norfolk, Virginia and is the son of Carlton Harris Furr and Marion Carter Snow Furr. He is married to the former Caroline Ann Huffstutler of Birmingham, Alabama. They have one son Carter Branham Snow Furr, Jr. and three grandchildren.
Mr. Furr was educated in Norfolk public schools graduating from Maury High School. Thereafter he attended and graduated from Hampden-Sydney College in 1954 with a B. S. Degree Magna Cum Laude. Following college he attended and graduated from the University of Virginia Law School in 1957 with a J.D. Degree, at which time he was honored with membership in the Order of the Coif.
Mr. Furr began the practice of law in Norfolk, Virginia in 1958, specializing in maritime law. He was a partner in the firm of Jett, Berkley, Furr & Padgett until its merger in 1993 with the firm of McGuire Woods. After later retiring from McGuire Woods, he has maintained a small solo practice in Norfolk. Mr. Furr was a thirty-year member of the United States Army Reserve, serving in the Judge Advocate General's Corps, retiring with the rank of Colonel.
Society Memberships
Order of First Families of Virginia, 1607-1624/5 (Honorary President for Life)
Jamestowne Society (Governor)
National Society Sons of the American Revolution (former Chancellor Virginia Society and former President of Norfolk Chapter)
General Society of Colonial Wars (Gentleman of the Council, Virginia Society)
Order of Descendants of Colonial Cavaliers
Order of the Crown of Charlemagne in the United States of America
Ancient Heraldic and Chivalric Order of Albion
National Gavel Society
Order of the Merovingian Dynasty
Baronial Order of Magna Charta
One Hundred Descendants of Blood Royal
Military Order of the Crusades
Other Memberships
Member of the Bar of the Supreme Court of Virginia
Member of the Bar of the Supreme Court of the United States
Permanent Member, U. S. Court of Appeals Fourth Circuit Judicial Conference
Virginia State Bar
Virginia Bar Association
Norfolk-Portsmouth Bar Association
Maritime Law Association of the United States
Southeastern Admiralty Law Institute
Norfolk Historical Society, Board and past president
Norfolk Preservation Alliance, vice-president
Friends of Norfolk's Historic Cemeteries, Board
Hampton Roads Naval Historical Foundation, Board
Norfolk German Club, past president
Reserve Officers Association of the U. S., past president of Admiral Farragut Chapter
Virginia Club, past president
Elizabeth River Power Squadron, Law Officer
Norfolk Yacht & Country Club
Preservation Virginia
Virginia Historical Society
National Trust for Historic Preservation
Civil War Preservation Trust
Lifelong member of St. Andrew's Episcopal Church of Norfolk, serving on the Vestry and as Senior Warden
Former member of the Executive Board of the Diocese of Southern Virginia
Listed In
Who's Who in the South and Southwest