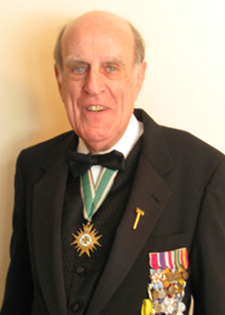 Richard Stephen Austin, a native of Blacksburg, Virginia, is the son of Vernon Childrey and Hattie Wiggins Austin. He graduated from Virginia Polytechnic Institute and State University with a B.S. in Biology. LTC Austin is a retired Lieutenant Colonel, U.S. Army, and enjoyed a career with the U.S. Departments of Transportation and Labor, as an acquisition officer. He is married to Dorothy Rhea Cochran Austin. The Austins have one daughter, Patricia Louise Austin Ting.
Memberships
National Society Sons of Colonial New England (Governor General)
Order of the First Families of Connecticut (Treasurer General)
Hereditary Order of the Families of the Presidents and First Ladies of America (Treasurer General)
National Society of Sons of American Colonists (Deputy Governor General
National Society Sons of the American Revolution (former Librarian General)
National Society Sons and Daughters of the Pilgrims (District of Columbia Branch Governor)
Order of the Founders and Patriots of America (former Registrar and Counselor of the Virginia and District of Columbia Societies)
Chivalric Orders
Ordo Sancti Constantini Magni (Officer, KSM Bailie of the East
Notes
Mr. Austin is a former Senior Warden, Episcopal Church, Diocese of Virginia.