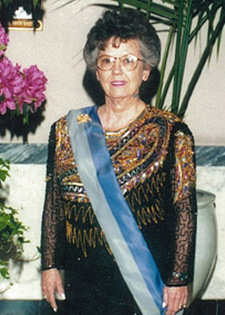 Patricia Jane Scruggs Trolinger, daughter of the late David Richard and Frances Roberta Smith Scruggs, was a native of Madisonville, Tennessee. The daughter of an FBI agent, Patricia met her husband, Donald Cecil Trolinger, at Tinker Air Force Base. The couple were married over fifty years. Mr. Trolinger, was a retired US Air Force Lieutenant Colonel, who served as a pilot for over twenty years. The Trolingers have two children. Richard of Bartlesville, Oklahoma and Betty Giffhorn of Tulsa, Oklahoma. Richard and his wife have two daughters, Alexis and Ellie. and Betty and her spouse, Matthew Giffhorn have twin sons in Christopher and Benjamin and a daughter, Katharine.
Memberships
National Society United States Daughters of 1812 (Honorary National President; Past President of the Officers National Club)
Hereditary Order of Descendants of Loyalists and Patriots of the American Revolution (Honorary Governor General)
The Order of Descendants of the First Families of Rhode Island and Providence Plantations
Colonial Dames of America
Continental Society Daughters of Indian Wars
National Gavel Society
National Society Colonial Dames XVII Century
National Society Daughters of the American Revolution
Hereditary Order of the Families of the Presidents & First Ladies of America
Authorship
1812 Ancestor Index – Volume II 1970-1992
Other Notes
Mrs. Trolinger was a founding member of the Scruggs Family Association, a family lineage organization that is associated with the Scruggs family. She was President for many years and the first editor of the organization's publication "Searching for Scruggs" She was Tribal Historian for the Modoc Tribe of Oklahoma from 1978 to 2003 and wrote the "History of the Modoc Tribe of Oklahoma" in 2003.
She served on the Board of Directors of the Ottawa County, Oklahoma Historical Society for many years. She also served as President of the Miami Animal Welfare Society. Mrs. Trolinger served her church, First Presbyterian, as a deacon and numerous committees.