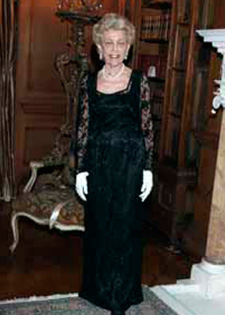 Margaret Jean Whittington Pigott is the daughter of the late Earle Ligon and Margaret Loucilla Whittington. Mrs. Pigott was married to Dr. John Douglas Pigott, Jr. for over sixty-one years, prior to his passing in 2006. Dr. Pigott, a graduate of Northwestern Medical School, practiced surgical oncology for over forty years. Dr. and Mrs. Pigott have two children. Their daughter, Deborah Moore resides in St. Louis, Missouri with her husband, a practicing attorney and their four children. Their son, Dr. John Douglas Pigott, Jr. is a cardiovascular surgeon practicing in New Orleans, where he resides with his wife and two children.
Memberships
National Gavel Society
Order of First Families of Virginia 1607-1624/25 (Honorary President for Life)
Order of the Crown in America
Colonial Dames of America
Order of the Crown of Charlemagne in the United States of America
Order of Descendants of Colonial Cavaliers
Jamestowne Society
National Society Daughters of the American Revolution
Society of Descendants of Knights of the Garter
American Friends of Saint George's (board member)
Huguenot Society of the Founders of Manakin in the Colony of Virginia
National Society Magna Charta Dames and Barons
United Daughters of the Confederacy
Ligon Family and Kinsman Association (former Treasurer for over forty years)
Other Notes
Mrs. Pigott attended Saint John's Methodist Church, and was past President and Secretary of the Women's Society. She was a member of the English Speaking Union, the American Cancer Society, the Memphis and Shelby County Medical Auxiliary, the Lawn and Country Garden Club, the Memphis Glass Collectors Club, the Brooks Art Gallery, the Brooks Museum League, the Dixon Art Gallery and Gardens, and the Women's Exchange of Memphis.
Mrs. Pigott was a past President of the Parkdale Gardens Club, a past President of the Coteria Fine Arts Club, and a member of the Leadership Board of the Baptist Memorial Hospital.