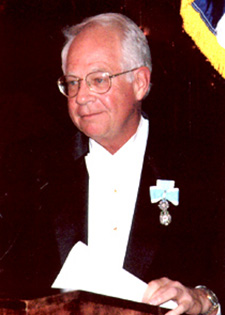 Robert Fillmore Norfleet, Jr., son of Robert Fillmore Norfleet and Elizabeth C. Norfleet, was born in Richmond, Virginia. He was raised at Woodberry Forest School in Madison, Virginia and married Jane S. Elliott; they have two sons, Robert Fillmore Norfleet, III and Bryan Randolph Norfleet.
Educated at Woodberry Forest School and St. Christopher's School, Mr. Norfleet was graduated from Washington & Lee University, where he received his Bachelor of Arts, and the Stonier Graduate School of Banking at Rutgers University. During Vietnam he served as a Lieutenant in the United States Navy.
Mr. Norfleet is a retired Corporate Executive Vice President and Senior Credit Officer for Crestar Bank (now SunTrust). Mr. Norfleet serves as the current President General of the Society of the Cincinnati.
Membership
Society of the Cincinnati (former President General)
Society of the Cincinnati in the State of Virginia (former President)
Other Notes
Chairman of the Greater Richmond Chamber of Commerce, 1996-97; Campaign Chairman of the Greater Richmond United Way, 1989; and Chairman of the Valentine Museum, 1997-2000. Mr. Norfleet currently serves as Chairman of The Community Foundation of Greater Richmond, Director of LandAmerica Financial Group and Commissioner of the Richmond International Airport.