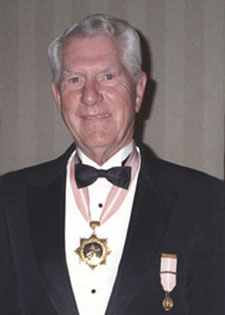 Eugene Arthur Fortine was born in Maracaibo, Venezuela, the oldest son of Dwight Hugh Fortine and Alice Frances Wilson. He returned to the United States with his family, and grew up living on or near oil fields in California. Mr. Fortine attended Stanford University where he was graduated with both a B.S. in Petroleum Engineering and an M.S. in Petroleum Engineering. While at Stanford, Mr. Fortine met his wife, Patricia Ann Jones. They were married for over fifty years, and have four children, (Alan David Fortine; Judith Lee Tillar; Linda Jean Yale; and Terri Fortine Baker) and eleven grandchildren.
Mr. Fortine worked as a petroleum engineer for Richfield Oil Company (now ARCO), and then for the United States Army with the Corps of Engineers, working at the Engineer Research and Development Labs at Fort Belvoir, Virginia. Mr. Fortine also worked in the architectural aluminum business, as a partner in industrial hardware sales, and as a construction estimator for roof-framing and glass and glazing companies. He retired from full-time employment in 1996. Gene passed away in Waco, Texas on December 1, 2005.
Memberships
National Gavel Society
Order of First Families of Virginia
General Society of Mayflower Descendants (former Governor General)
Order of Scions of Colonial Cavaliers 1640-1660
Hereditary Order of Descendants of Colonial Governors
Jamestowne Society (former Councilor of the First California Company)
Ancient and Honorable Artillery Company of Massachusetts
Welcome Society of Pennsylvania
Society of the Descendants of the Colonial Clergy (former Councilor)
Order of Americans of Armorial Ancestry
National Huguenot Society (Treasurer of the California Society)
Huguenot Society of the Founders of Manakin in the Colony of Virginia
Sons and Daughters of the Colonial & Antebellum Bench & Bar 1565-1861
National Society Sons of Colonial New England
National Society Descendants of Early Quakers (former Keeper of the Common Fund)
Order of the First Families of Rhode Island and Providence Plantations
Descendants of Founders of New Jersey
Sons of Union Veterans of the Civil War
Order of First Families of North Carolina
Elder William Brewster Society
Notes
Mr. Fortine enjoyed wine tasting and collecting fine California wines. He was an avid tennis player, and indulged in watching American Football. He enjoyed duplicate bridge, as well. Mr. Fortine secured a patent from the United States Patent Office for the mudsill anchor.
He was a Kentucky Colonel and member of the Stanford Alumni Association; Phi Sigma Kapp Fraternity; and North Hollywood High School Alumni Association. Mr. Fortine also maintained membership in Plimoth Plantation (Overseer); Pilgrim Society; American-French Genealogical Society; Lake Elsinore Genealogical Society; Foulke Family Association; and Platt Family Association.
He and his wife were members of the First Presbyterian Church of Berkeley, where Mr. Fortine served as an elder.