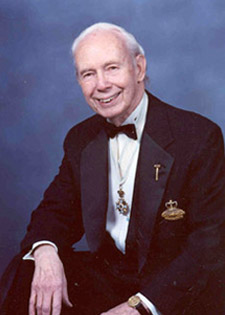 Warren Robertson Hull is the son of McKinley Hobart Hull and Grace Robertson Fontaine Johnson. He is a native of Birmingham, Alabama, and growing up, lived in Chicago, Illinois; Tarrytown-On-Hudson, New York; and Washington, D.C.
Mr. Hull attended George Washington University where he was a member of Sigma Alpha Epsilon Fraternity and where he was President of the Student Council. After a stint in the U. S. Air Force during the Korean War, he enrolled in Columbia University, New York City, where he earned a Bachelor of Science degree.
He enjoys a life-long interest in classical music, plays the piano and composes. He is a former governing member of the board of directors, Chicago Symphony Orchestra. For many years, he lived on a horse farm in southwestern Pennsylvania where he bred, trained and sold purebred Paso Fino horses.
Most of Mr. Hull's business career was spent at United States Steel Corporation where he was Director of Corporate Communications. He is now retired and resides in Uniontown, Pennsylvania. He is a member of the Episcopal Church.
Membership
National Gavel Society
Order of the Crown in America (President General)
American Friends of Saint George's and Descendants of the Knights of the Garter, Inc., Windsor Castle (President)
National Society of Sons of American Colonists
National Society of the Sons of the American Revolution
Authorship
The Corporation, A Centennial Biography of United States Steel Corporation, 1901-2001; Pennsylvania: Cathedral Publishing, University of Pittsburgh, 2001 (Editor)