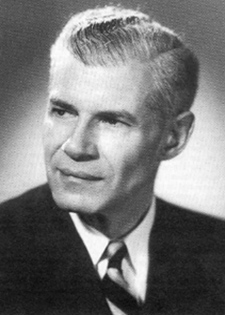 James Bronson Gardiner, II, was born on January 20, 1907 in Amsterdam, New York. He was educated at Governor Dummer Academy in Massachusetts, and Yale University. After graduating from Yale, he began his career as an actuary with the Metropolitan Life Insurance Company until he faced mandatory retirement in 1972. He then went to work with the New York State Department of Insurance, where he was involved in the management of pension funds of New York City employees, remaining in this role for thirty years, and retiring definitively at the age of 95.
Mr. Gardiner had two children; a daughter by his first wife, and a son by his second. His daughter, Cynthia, and son, James Bronson Gardiner, III of Burlington, Vermont, survive him. Mr. Gardiner married third Alice Haddock of Alexandria, Virginia when both were 88. She preceded him in death. Mr. Gardiner died on December 11, 2003.
Memberships
New York Society of Colonial Wars

Saint Nicholas Society of the City of New York

General Society Sons of the Revolution

National Society Sons of the American Revolution (former President General)

Order of Americans of Armorial Ancestry

Order of the Founders and Patriots of America

National Huguenot Society

Dutch Settlers Society of Albany
Chivalric Orders
Other Notes
Mr. Gardiner, at the time of his death, was the country's oldest working life actuary. During his career he became a Fellow of the Actuarial Society of America, served as Manager of the Group Contract Bureau at MetLife, and helped establish that firm's Immediate Participation Program.
His interests included mathematics, mountain climbing, early American and New York history, and genealogy. His son writes, "I think he loved nothing so much as poring through dusty archives in courthouses or church basements, looking for birth, death and baptismal records of some remote ancestor."