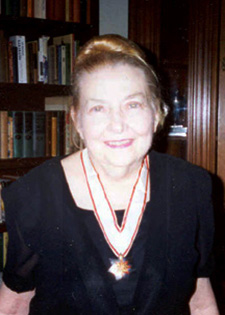 Mrs. Gabrielle Maupin Bielenstein, the daughter of William Gabriel Maupin and Florence Mary Brayley, was born in Portsmouth, Virginia. She met and married her husband, Johan Henrik August "Hans" Bielenstein, in Canberra, Australia, where they lived for a number of years. Upon Dr. Bielenstein's appointment to a chair at Columbia University, the Bielensteins moved to New York City, where they reside today. Dr. and Mrs. Bielenstein have two daughters: Danielle Erika Mary and Andrea Johanna Gabrielle Bielenstein.
Mrs. Bielenstein was educated at a series of small private schools, including Holton-Arms in Washington, D.C. She took her B.A. at Sweet Briar College, where she was a member of Phi Beta Kappa. Mrs. Bielenstein completed her M.A. on a Fullbright Scholarship at the University of Melbourne.
Mrs. Bielenstein spends her summers in Portsmouth, Virginia at her family home, while Dr. Bielenstein summers in Sweden. During the summers, Mr. Bielenstein devotes her time as a guide, detailing the rich Tidewater history of the Portsmouth area.
Memberships
National Gavel Society
Order of the First Families of Virginia 1607-1624/5
Order of Three Crusades 1096-1192 (3rd Vice President General)
Order of the Crown of Charlemagne in the United States of America
Order of Colonial Lords of the Manors in America
Hereditary Order of the Descendants of Colonial Governors (former Governor General)
National Society Daughters of the American Revolution (former Chaplain)
Daughters of the Cincinnati (former President General)
National Society Colonial Dames of America (former Historian; former Corresponding Secretary)
Descendants of the Signers of the Declaration of Independence (former 2nd Vice President General; former Chaplain and Secretary General)
Descendants of the Illegitimate Sons & Daughters of the Kings of Britain
National Society of the Washington Family Descendants
Jamestowne Society
National Society Daughters of the Barons of Runnemede (Registrar General)
Presidential Families of America (Board Member)
Huguenot Society of America (former Secretary General)
Huguenot Society of South Carolina
Huguenot Society of the Founders of Manakin in the Colony of Virginia
National Society United States Daughters of 1812 (Board Member)
Order of Descendants of Colonial Physicians and Chirurgiens (former Historian General)
Society of the Descendants of the Colonial Clergy (former Board Member)
National Society Sons and Daughters of Antebellum Planters l607-l86l (Board Member)
Sons and Daughters of the Colonial & Antebellum Bench & Bar 1565-1861
National Society Daughters of Colonial Wars
Hereditary Order of Descendants of Loyalists and Patriots of the American Revolution (former Secretary General)
National Society Descendants of Early Quakers
Order of Descendants of Ancient Planters
United Daughters of the Confederacy
Flagon & Trencher
Companions of the Conqueror
Chivalric Orders
The Sovereign Military Order of the Temple of Jerusalem, (New York Prioriy)
Notes
Mrs. Bielenstein is a member of the Princess Anne Club in Virginia, and the New York Junior League.